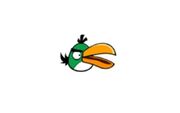 Hal's Journey
is a game in which Hal goes on a journey to rescue the eggs.
Power-Ups
Edit
Throughout the game you can collect power-ups to turn Hal into one of his forms.
The power-ups are:
Mini Hal power-up.
Mega Hal power-up.
Super Hal power-up.
Forms are what Hal becomes when he collects a power-up. These forms are:
Mini Hal.
Mega Hal.
Super Hal.
Hal will stay in the form he is in until he gets hurt.
This is the first appearace of the Super Pig Mans.