purple bird is a bird that he flies. we have scanned the egg and what he looks like in 10th April 2013. He is a baby right now and he looks so cute! his mom is Carla and his dad is Jerry. at least, he was upset and cried alot. (mostly about jerry's dead). but his dad would be turn to undead zombie in future.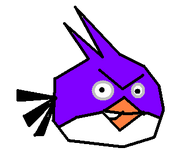 Purple bird(Shahidul Islam)
General Info
Powers
Flies everywhere
First Level Appearance:
Neat Purple Mystery
Gender:
Male
Species:
Purple bunting
Locations:
Angry birds Shahidul Islam
Strength:
strong
Size:
bigger than orange bird and smaller than red bird.